Big Time Hustler
Introducing...
The Minxies Professional Make Up Brush Cases.
Designed by Freelance Make Up Artists for Freelance Make Up Artists.
We just made carrying your kit around a WHOLE LOT easier!

These professional make up brushes cases can hold ALOT of brushes. That is one of the main reasons they were designed the way they were.

Lets get down to the deets of the Big Time Hustler large make up brush case...


Big Time Hustler
Large Professional Make up Brush Case

• SIZE : 30x40x8cms
• POCKETS : 7
• NUMBER OF BRUSHES CASE CAN HOLD : 200

Interior Banding - An important detail to the design. Elasticated banding hidden behind every pocket to hold
your brushes in place. They will not move even when you've chucked your kit in the boot of
your car after a long day freelancing!

Sectioned Pockets - Each case has pockets which are sectioned off so you can organise your brushes as you like. Biggest to smallest, base section, eyes section, your favourites together, whatever variation
you like.

Wipeable Material - Hygiene is one of the most important aspects of the make up artistry industry. The material used to make the make up brush cases is wipeable. Therefore it is easily cleaned with any
cleaning spray or wipe.

Compact - Us freelance make up artists carry our kit around everywhere with us. The less we can carry
the better, the smaller the kit the less back ache we have! These make up brush cases fold in
half (like a book) and can easily fit into any kit bag or carried on its own along side one.

Free Standing - Absolute game changer! You've got all your make up products you need out, all your primers
and skin care and then you need to find a place to lay all your brushes close by so you can
easily see which one you need at any given time. MUA problems! Space is often very limited
and so having a brush case that is free standing was vital. The case stands up on its own,
opens out like a book and takes up very little space. It also displays your brushes so you can
easily see every single one you own.

Zipped Case - Being able to fold the make up brush case in half and zip it up the whole way around not only
protects your brushes from being lost it keeps them clean and fresh.

SOLVING PROBLEMS FOR MAKE UP ARTISTS DESIGNED BY FREELANCE MUAS FOR FREELANCE MUAS.
https://youtube.com/shorts/c9hxrGoIe2Y?feature=sharehttps://youtub e.com/shorts/c9hxrGoIe2Y?feature=share
Things we think you might like…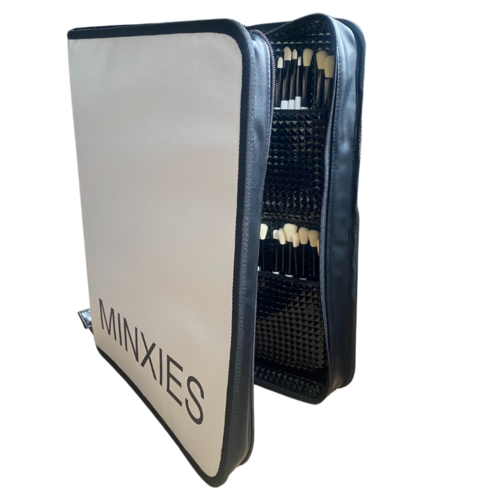 Available soon for Pre-order